Learn A Wide Range Of Disciplines With Adult Martial Arts At The Jungle
Whether you're training to fight or you're just looking to get in great shape, we have the perfect class for you at The Jungle MMA And Fitness. Our Adult Martial Arts classes in Downtown Orlando and Lake Mary offer multiple options for students who want to get discipline-specific training with the help of a professional instructor.
And if you want to try them all? Even better. We'll work with you to develop the most efficient and effective training program possible.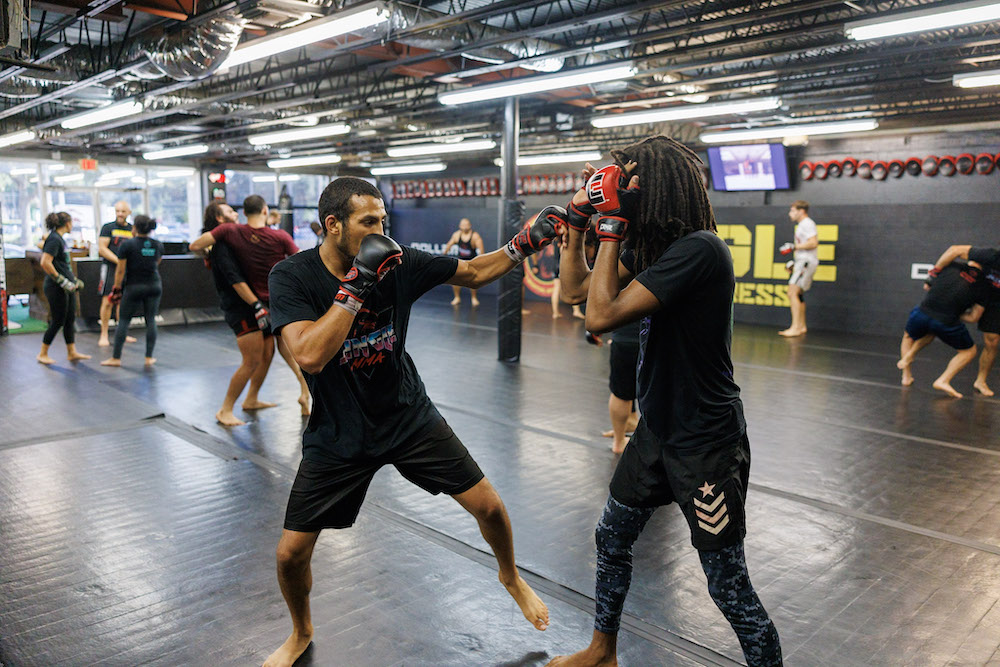 Train With The Best With The Jungle Adult Martial Arts
Our skilled instructors at The Jungle will help you get the most out of your training by pushing you each and every day. Our Adult Martial Arts classes include instruction in some of the most popular disciplines around - and we have a specialized coach on staff for high-level instruction no matter which discipline you choose.
Adult Martial Arts Classes include:
Brazilian Jiu Jitsu: With a focus on ground grappling, this class will help you build total body strength while building skills for recreation or competition.
Muay Thai Kickboxing: Learn to strike with all of your limbs using this traditional Martial Arts discipline. You've never seen a training program as effective as Muay Thai.
Boxing: Train for fun or sharpen your skills. You'll develop hand speed and power with our Boxing instruction and we'll teach you the most efficient ring strategies.
Mixed Martial Arts: Combine everything you know with the exciting world of MMA. Whether you want to be a pro or you've never even taken a class, we have exactly what you're looking for.

Train With Confidence And Support During Our Adult Martial Arts Classes
At The Jungle, our Adult Martial Arts programs feature a collaborative community environment, where students learn from one another and support each other every single day. Don't go to the gym worrying about intimidation or your safety. At The Jungle, you'll join a family of athletes who work hard to improve as a group.
Adult Martial Arts Classes feature:
Constant feedback and support
Friendly sparring and grappling
Collaboration through communication
Don't Hesitate - Sign Up Today For The Jungle Adult Martial Arts
If you're looking for a gym in Downtown Orlando or Lake Mary where you get improve every day and enjoy the support of those around you, look no further than The Jungle MMA and Fitness. Our Adult Martial Arts classes will be the most beneficial program you've ever tried. To sign up today or to see our class schedules, just fill out the form on your screen now and we'll be in touch soon!
Our Adult Martial Arts Classes Are Located In